Lincoln County, Georgia Electric Profile
Residents of Lincoln County are paying, on average, 3.92% less per kilowatt hour at home than the nationwide average, at 12.92 cents per kilowatt hour compared to 13.45 cents per kilowatt hour.
Lincoln County has no power production plants and must import all of the electricity consumed in the county.
With a population of 7,921 citizens, Lincoln County is the 2675th largest county by population in the nation.
Lincoln County is ranked 25th out of 159 for worst polluting county in the state when considering emissions per capita. The county emits 4,900.92 kilograms per capita per year of CO2 gases.
Lincoln County ranks 142nd out of 159 counties in the state for total electricity usage, with its population consuming over 100,000 megawatt hours.
Georgia Power is the largest supplier in Lincoln County when calculated by megawatt hours sold.
ENERGY CONSUMPTION
Total Consumption

101,888 MWh

Consumption per Capita

12.86 MWh
EMISSIONS
CO2 Emissions

38,820,205 kg

CO2 Emissions per Capita

4,900.92 kg
Lincolnton, GA Electric Overview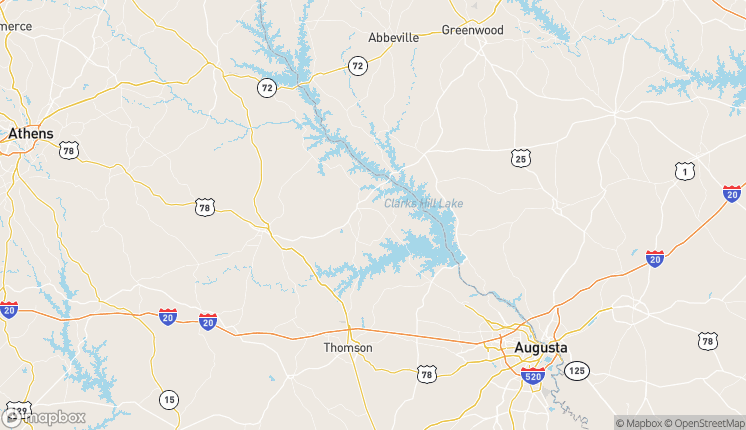 The average residential electricity price for Lincolnton is approximately 12.92 cents per kilowatt hour. While this is above the Georgia average rate of 12.22 cents per kilowatt hour it is lower than the United States average of 13.45 cents. The average residential power bill for a resident in the city is $134.88 per month, while the nationwide average is $120.24. Selling 5,005.6 megawatt hours per year, Georgia Power is the largest electricity provider in the city.
The consumption of electricity in Lincolnton accounts for 8,811,858.21 kilograms of CO2 emissions per year, which is the 296th highest in Georgia out of 625 cities. Additionally, the city ranks 406th worst in Georgia in pollution per capita, which could be argued to be the more important metric. They average 4,900.92 kilograms of emissions per citizen. All of the 23,127.82 megawatt hours used in the city must be imported from nearby cities or rural areas as there are no electricity facilities that call the city home.
Residential Electricity Bills & Rates in Lincolnton
Lincolnton residential electric rates are highest in January and the highest average bill is in November.
Historical Electric Rates:
464th
12.92¢
Average residential price per kWh in the city of Lincolnton
432nd
$134.88
Average residential monthly electricity bill for Lincolnton Residents
Electric Companies With Service in Lincolnton, Georgia
| Provider | Service Type | Residential Rate (¢) | Residential Average Bill ($) | City Production (MWh) | Residential Sales (MWh) | Residential Revenues ($) |
| --- | --- | --- | --- | --- | --- | --- |
| Georgia Power | BUNDLED | 12.77 | 130.38 | | 28,207,124 | 3,600,820,699 |
| Rayle Electric Membership Corporation | BUNDLED | 13.08 | 139.38 | | 201,446 | 26,351,900 |
Lincoln County, Georgia Details
FAQ
What electricity companies offer service in Lincoln County, Georgia?
What electricity company is the largest supplier in Lincoln County, Georgia?
The largest electricity supplier in Lincoln County, Georgia by total revenue is Georgia Power.
How many electric companies offer service in Lincoln County, Georgia?
There are 2 electricity providers serving consumers in Lincoln County, Georgia.