Alleghany County, North Carolina Electric Profile
The largest electricity company in Alleghany County by number of customers is Blue Ridge Energy.
At an average residential price of 12.86 cents per kilowatt hour in the county compared to the nationwide average 13.45 cents per kilowatt hour, citizens of Alleghany County enjoy a 4.39% discount from the nationwide average price.
Alleghany County has a population of 11,137 citizens.
Alleghany County ranks as the 81st worst pollution level from electricity use in the state, emitting 47,211,271.91 kilograms of CO2 gases.
Alleghany County is ranked 1960th out of 3220 for highest polluting county in the nation when considering pollution per capita. The county emits 4,239.14 kilograms per capita per year of CO2 gases.
No electricity production takes place in Alleghany County, meaning the county must import their electricity from outside of their borders.
ENERGY CONSUMPTION
Total Consumption

142,405 MWh

Consumption per Capita

12.79 MWh
EMISSIONS
CO2 Emissions

47,211,272 kg

CO2 Emissions per Capita

4,239.14 kg
Sparta, NC Electric Overview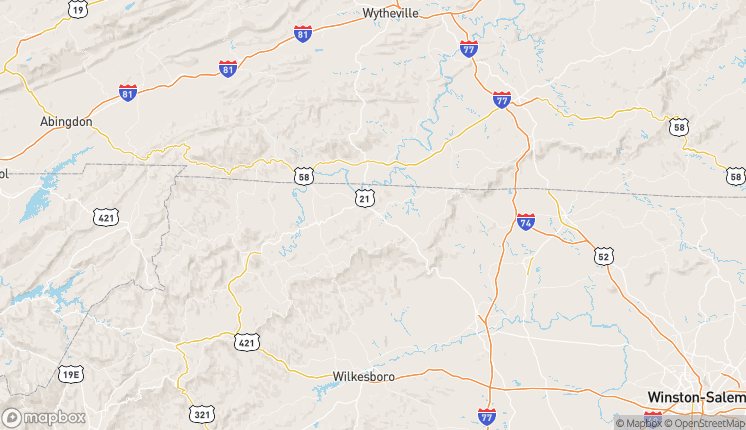 On average, Sparta's residential electricity price is 12.86 cents per kilowatt hour. This is, regrettably for their citizens, 12.50% more than the state's average rate of 11.43 cents, which ranks the city 636th out of 739 cities in the state for lowest average electricity price. Blue Ridge Energy sells 1,706.41 megawatt hours in the city per year, more than any other supplier. The national average monthly residential power bill is $120.24, while the Sparta average is 5.19% lower at $114 per month.
Electricity use in Sparta results in the release of 6,909,793.77 kilograms of CO2 emissions, which is the 344th highest in the state out of 739 cities. This total also results in a ranking of 127th worst in the state for emissions per person. The city is home to no power generation plants, which is, quite clearly, the least in the country for total power plants in a city.
Residential Electricity Bills & Rates in Sparta
Sparta residential electric rates are highest in January and the highest average bill is in July.
Historical Electric Rates:
636th
12.86¢
Average residential price per kWh in the city of Sparta
123rd
$114
Average residential monthly electricity bill for Sparta Residents
Electric Companies With Service in Sparta, North Carolina
| Provider | Service Type | Residential Rate (¢) | Residential Average Bill ($) | City Production (MWh) | Residential Sales (MWh) | Residential Revenues ($) |
| --- | --- | --- | --- | --- | --- | --- |
| Blue Ridge Energy | BUNDLED | 12.86 | 114 | | 735,855 | 94,635,000 |
Alleghany County, North Carolina Details
FAQ
What electricity company is the largest supplier in Alleghany County, North Carolina?
By total customer count, Blue Ridge Energy is the largest electricity supplier in Alleghany County, North Carolina.
What electricity companies offer service in Alleghany County, North Carolina?