Blue Grass Energy is an electric cooperative. The largest county served by Blue Grass Energy is Fayette County, but the company also supplies electricity in 20 counties in the state. Recently filed reports by the company showed a total customer base of 59,889 accounts. Exactly 56,881 are residential properties, 2,998 are commercial accounts and 10 are industrial accounts. The average residential electricity rate for Blue Grass Energy is approximately 10.16 cents per kilowatt hour. This is, fortunately, 8.29% lower than the state's average price of 11.07 cents, ranking the company at 11th lowest for average electricity rate out of 58 suppliers in Kentucky. Of the 1,328,143 megawatt hours Blue Grass Energy sold and dispossessed, 1,268,519 were from sales to end users. Of the megawatt hours they sourced, 1,328,143 megawatt hours were purchased by way of wholesale channels. In 2020, the company made $115,900,000 from retail electricity sales to end users.
About Blue Grass Energy
The state average monthly residential electricity bill is $122.32, while the Blue Grass Energy average is 0.59% higher at $123.02 per month. Blue Grass Energy is the 41st ranked provider in the state for average monthly bill amount. The supplier currently does not generate their own electricity. Instead, they must purchase that electricity at wholesale prices from other providers and then resell it to end consumers.
Thankfully, Blue Grass Energy allows their consumers to take part in net metering. This makes it easier for people to install solar and other alternative electricity options as they have the ability to sell unneeded electricity back into the grid.
Losing energy from heat dissipation while transmitting electricity and other causes is a reality of being in the electricity production business. Electricity companies must report these losses. Blue Grass Energy reported a yearly loss of roughly 4.40% of the electricity that they produce. These averages allow us to compare and contrast the infrastructure efficiencies of the various companies who operate around the country. Blue Grass Energy has earned a rank of 23rd best out of 58 providers who report energy loss in the state and 756th best out of 3510 in the US.
Blue Grass Energy Rate & Electric Bills
Blue Grass Energy residential electric rates are highest in January and the highest average bill is in July.
Historical Electric Rates:
678th
10.16¢
Blue Grass Energy's Average residential price per kWh
2160th
$123.02
Average monthly electric bill for Blue Grass Energy's residential customers
Blue Grass Energy Overview
Company Type:

Cooperative

Headquarters:

1201 Lexington Road
Nicholasville, Kentucky 40356
United States of America

CEO:

Michael Williams
Blue Grass Energy Contact
Blue Grass Energy Service
States Served:

Counties Served:

Fayette County
Madison County
Scott County
Jessamine County
Franklin County

See All Counties

Major Cities Served:

See all cities

Table Of Contents:
Energy Loss
Blue Grass Energy's energy loss due to business operations.
-4.40%
Total Energy Loss
58,470MWh
756 National Rank
Blue Grass Energy Coverage Map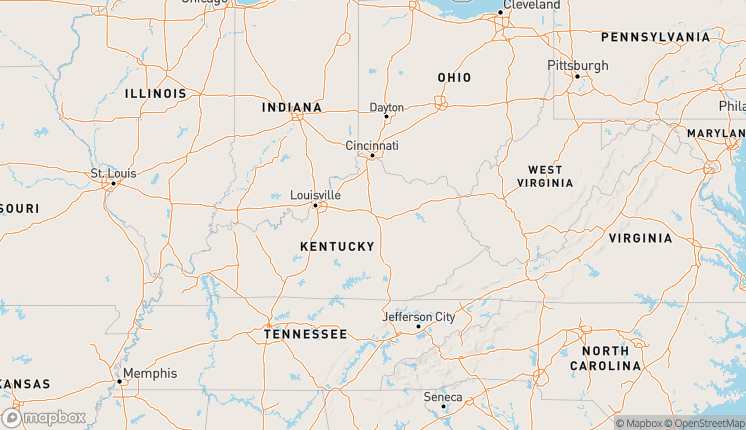 Blue Grass Energy State Coverage
| State | Customers | Sales ($) | State Rank Based On Revenue | % of Provider's Residential Sales in State |
| --- | --- | --- | --- | --- |
| Kentucky | 59,889 | 115,900,000 | 14 | 100% |
Blue Grass Energy County Coverage
| County | Population | Providers | Avg. County Rate (¢) | Avg. Electric Bill |
| --- | --- | --- | --- | --- |
| Anderson County | 22,747 | 2 | 10.21 | $122.97/mo |
| Bourbon County | 19,788 | 3 | 10.54 | $121.16/mo |
| Bracken County | 8,303 | 3 | 10.38 | $118.96/mo |
| Fayette County | 323,152 | 3 | 10.66 | $122.33/mo |
| Franklin County | 50,991 | 3 | 10.44 | $119.32/mo |
| Garrard County | 17,666 | 3 | 11.22 | $127.71/mo |
| Grant County | 25,069 | 4 | 10.48 | $115.95/mo |
| Harrison County | 18,886 | 2 | 10.23 | $122.95/mo |
| Henry County | 16,126 | 3 | 10.56 | $128.20/mo |
| Jessamine County | 54,115 | 3 | 10.23 | $122.36/mo |
Cities Blue Grass Energy Has Coverage
Berea, KY
Carlisle, KY
Cynthiana, KY
Falmouth, KY
Georgetown, KY
Harrodsburg, KY
Keene, KY
Lawrenceburg, KY
Nicholasville, KY
Paris, KY
Richmond, KY
Sadieville, KY
Williamstown, KY
Wilmore, KY
* City coverage generated based on government data. Always verify you can get service from the provider.
Blue Grass Energy Reviews
Write a Review of Blue Grass Energy
Blue Grass Energy FAQ:
Who is the CEO of Blue Grass Energy?
Blue Grass Energy's CEO is Michael Williams.
How much is the average bill for Blue Grass Energy customers each month?
Consumers of Blue Grass Energy pay, on average, a monthly bill of $123.02.
How many counties does Blue Grass Energy offer service to?
Blue Grass Energy offers service to customers in 20 counties.
What cities does Blue Grass Energy offer service in?
Blue Grass Energy provides electricity to 14 cities.
What is the average electricity rate for Blue Grass Energy customers?
Customers of Blue Grass Energy, on average, have an electricity rate 10.16 cents per kilowatt hour (¢/kWh).
What is the phone number for Blue Grass Energy?
You can reach Blue Grass Energy by phone via (888) 546-4243.