Verde Energy
Electricity Rates, Plans & Statistics
About Verde Energy
Verde Energy is a retail power marketer, which is a company that operates in deregulated electricity markets where consumers can choose from multiple electricity providers. The company had sales of 1,332,467 megawatt hours in 2020 sold to end users. Of the megawatt hours they sourced, 1,377,906 megawatt hours were procured via wholesale channels. The revenue for Verde Energy in 2020 from electricity sales was $163,557,000, with all revenue coming from retail sales to end users.
Verde Energy recently reported an annual loss of about 3.30% of the electricity that they produce. Loss of electricity due to heat dissipation during electricity transmission and other causes is part of operating in the electricity production industry and companies must report these losses to government agencies who track electricity infrastructure efficiencies. The nationwide average energy loss is 2.76%. This results in Verde Energy receiving a ranking of 426th best out of 3509 providers in the country.
Looking for better Electricity or Gas rates?
Find out which plans are best for your home or business in your area and send a change request in minutes.
Find plans in your area
Verde Energy Overview
Company Type:

Retail Power Marketer

Parent Company:

CenStar Energy

Headquarters:

12140 Wickchester Lane Suite #100
Houston, Texas 77079
United States of America

CEO:

Thomas FitzGerald
Verde Energy Contact
Verde Energy Service
States Served:

Table Of Contents:
Go Solar for as low as $79/mo
Quick Facts About Verde Energy
Verde Energy has no power production sources and must purchase all of the electricity they sell to customers.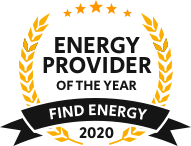 Lowest Average Residential Monthly Bill
Texas, Major Provider Category
Claim Award
Energy Loss
Verde Energy's energy loss due to business operations.
-3.30%
Total Energy Loss
45,439MWh
426 National Rank
Verde Energy State Coverage
| State | Customers | Sales ($) | State Rank Based On Revenue | % of Provider's Residential Sales in State |
| --- | --- | --- | --- | --- |
| Connecticut | 19,517 | 37,713,000 | 15 | 12.82% |
| Massachusetts | 11,806 | 13,666,000 | 38 | 9.09% |
| New Jersey | 20,681 | 27,612,000 | 30 | 18.9% |
| New York | 18,965 | 19,753,000 | 43 | 10.93% |
| Ohio | 13,167 | 15,346,000 | 34 | 11.6% |
| Pennsylvania | 45,376 | 49,467,000 | 34 | 36.66% |
Verde Energy Reviews
Write a Review of Verde Energy
Verde Energy FAQ:
How many states does Verde Energy supply electricity to?
Verde Energy sells electricity to customers in 6 states.
What is the average energy bill for Verde Energy customers each month?
Consumers of Verde Energy pay, on average, a monthly energy bill of $0.00.
Who is the CEO of Verde Energy?
Thomas FitzGerald is the current CEO of Verde Energy.
What company is Verde Energy owned by?
Verde Energy is owned by CenStar Energy.
What is the average ENERGY electricity rate for Verde Energy customers?
Verde Energy's current average ENERGY electricity rate is 0.00 cents per kilowatt hour (¢/kWh), compared to the average United States ENERGY rate of 14.11 cents.
What is the phone number for Verde Energy?
You can reach Verde Energy by phone via (800) 388-3862.