Lanier County, Georgia Electric Profile
Residents in Lanier County use 3545.00% of the electricity that the county generates.
Lanier County is the 125th largest county in the state, with 10,423 residents calling the county home.
Lanier County experienced a 5.21% increase in CO2 emissions per capita over the course of the previous year.
Over 100.00% of Lanier County's electricity generation comes from renewable fuel types, putting Lanier County at 1536th in the US for total sustainable electricity generation.
Lanier County's average residential electricity rate is 12.70 cents per kilowatt hour, which is 5.59% less than the nationwide average rate of 13.45 cents per kilowatt hour.
Lanier County is home to over 10,423 citizens and generates 3,782 megawatt hours of electricity from solar sources, or 0.36 megawatt hour per capita. This ranks Lanier County 359th in the nation out of 3220 counties for solar megawatt hours generated per capita.
ENERGY CONSUMPTION
Total Consumption

134,072 MWh

Consumption per Capita

12.86 MWh
ENERGY PRODUCTION
Total Production

3,782 MWh

Production from Renewable Energy

3,782 MWh

Production per Capita

0.36 MWh
EMISSIONS
CO2 Emissions

49,641,345 kg

CO2 Emissions per Capita

4,762.67 kg
Lakeland, GA Electric Overview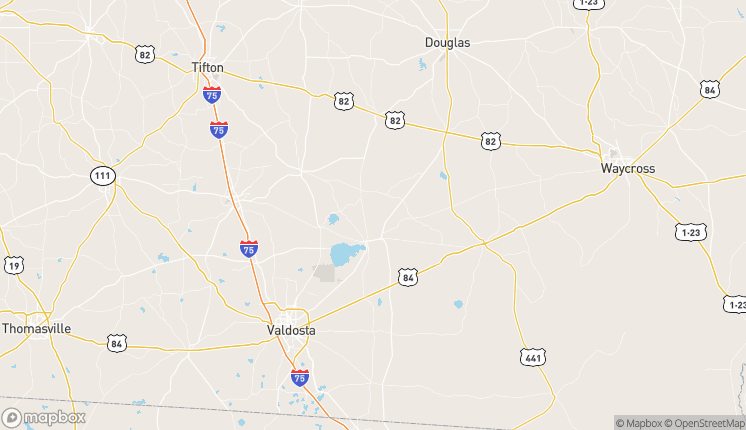 On average, Lakeland's inhabitants spend 12.70 cents per kilowatt hour for their residential electricity, which is 3.95% above the average state rate of 12.22 cents, a potentially frustrating situation for residents of the city. Customers in Lakeland are faced with 1.03 electrical outages a year with outages lasting on average 120.4 minutes. Citizens in the city have an average monthly residential electricity bill of $135.53. This is 1.32% above the Georgia average bill of $133.76.
Around 4,900.92 kilograms of CO2 emissions per resident are emitted in the city due to electricity consumption, ranking them as the 14th highest polluter in Georgia out of 625 cities. A total of 16,060,322.22 kilograms of CO2 emissions are emitted from the city a year. This is enough to rank 218th worst in Georgia for total pollution from electricity use. Since there is no electricity generation occurring within the city, Lakeland must turn to neighboring cities or rural areas to source all of the megawatt hours they consume every year.
Residential Electricity Bills & Rates in Lakeland
Lakeland residential electric rates are highest in January and the highest average bill is in November.
Historical Electric Rates:
322nd
12.70¢
Average residential price per kWh in the city of Lakeland
463rd
$135.53
Average residential monthly electricity bill for Lakeland Residents
Electric Companies With Service in Lakeland, Georgia
| Provider | Service Type | Residential Rate (¢) | Residential Average Bill ($) | City Production (MWh) | Residential Sales (MWh) | Residential Revenues ($) |
| --- | --- | --- | --- | --- | --- | --- |
| Georgia Power | BUNDLED | 12.77 | 130.38 | | 28,207,124 | 3,600,820,699 |
| Slash Pine Electric | BUNDLED | 12.63 | 140.68 | | 110,734.28 | 13,986,702.18 |
Energy Production in Lanier County, Georgia
Power Plants in Lanier County, Georgia
| Plant | City/County | State | Primary Fuel Type | Production (MWh) | Emission (kg) | Emissions per MWh | Toxic Chemical Release | Closing Date |
| --- | --- | --- | --- | --- | --- | --- | --- | --- |
| | Lanier County | GA | Solar | 3,782 | | | | |
Lanier County, Georgia Details
There is one electricity producing plant in Lanier County, which is the 49th most power plants in a county in the state and equates to the 824th highest amount of power plants per resident in the state. The county's electricity consumption results in CO2 emissions totaling 49,641,344.61 kilograms, which is 116th highest in Georgia out of 159 counties. This total results in 4,762.67 kilograms of CO2 emissions per citizen, which ranks the county 1640th highest in the United States for emissions per capita. Lanier County's primary fuel utilized for electricity generation is Solar. They produce 3,782 megawatt hours from this fuel source.
FAQ
How many electric companies offer service in Lanier County, Georgia?
There are 2 electricity companies operating in Lanier County, Georgia.
Which electricity company is the largest provider in Lanier County, Georgia?
The largest electricity company in Lanier County, Georgia by megawatt hours sold is Georgia Power.
How many power plants are within Lanier County, Georgia?
There is one active power plant located in Lanier County, Georgia
Which electricity companies offer service in Lanier County, Georgia?