Electricity in Hawaii
Electricity Rates, Plans & Statistics
Electricity Coverage & Statistics in Hawaii
Population 1,455,271
Total Production 9,188,095

 MWh

/ 6.31

 MWh per capita

Total Consumption 8,991,492

 MWh

/ 6.18

 MWh per capita

Total Production from Renewable 1,755,080

 MWh

/ 1.21

 MWh per capita

CO2 Emissions from Consumption 6,446,332,568

 kg

/ 4,429.64

 kg per capita

Total Production from Non-Renewable 7,433,485

 MWh

/ 5.11

 MWh per capita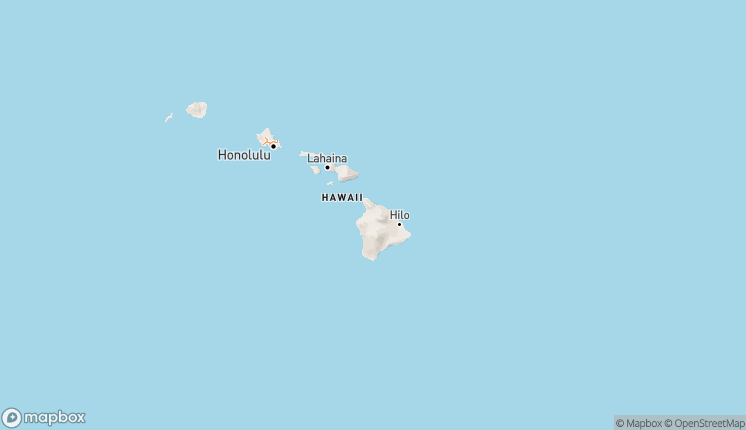 Residential Electricity Bills & Rates in Hawaii
Hawaii residential electric rates are highest in January and the highest average bill is in December.
Historical Electricity Rates:
52nd
34.84¢
Average residential price per kWh in the state of Hawaii
52nd
$184.98
Average residential monthly electricity bill for Hawaii Residents
Hawaii's Electricity Prices and Usage
Consumers in Hawaii are faced with a higher residential electricity rate than most people around the US, with an average state electricity rate of 34.84 cents per kilowatt hour compared to the national average rate of 13.99 cents. The state has a regulated electricity market, meaning customers may have only a couple electricity supplier choices to choose from when purchasing electricity. Within the past year, Hawaii has accomplished a 21.80% increase in electricity generation using renewable fuels rather than fossil fuels such as natural gas. The state released 6,446,332,568.25 kilograms of CO2 emissions from electricity use, causing them to be the 43rd highest polluting state in the nation based on total CO2 emissions. The state generates over 9,200,000 megawatt hours from its electrical power plants, which is the 47th highest total generation for any state in the US. Electricity providers operating in the state increased their production of megawatt hours from wind turbines by 13.87%.
Residential Electricity Providers in Hawaii
| Provider | Service Type | Residential Rate (¢) | Residential Average Bill ($) | Residential Sales (MWh) | Residential Revenues ($) | State Production (MWh) |
| --- | --- | --- | --- | --- | --- | --- |
| Hawaiian Electric | BUNDLED | 35.57 | 177.24 | 2,476,827 | 881,045,219 | 4,497,044 |
| Kauai Island Utility Cooperative | BUNDLED | 36.83 | 194.73 | 189,347 | 69,738,247 | 225,916 |
Power Plants in Hawaii
Plant

City/County

Primary Fuel Type

Production (MWh)

Emission (KG)

Emissions/MWh (KG/MWh)

Toxic Chemical Release

Closing Date

Honolulu County
Residual Fuel Oil
2,116,379
1,692,769,301.7
799.84

Yes

Honolulu County
Residual Fuel Oil
1,187,235
714,006,849.46
601.4
Honolulu County
Coal
1,107,052
1,232,233,489.44
1,113.08

Yes

9/2022
Pearl City CDP
Residual Fuel Oil
891,617
741,779,967.17
831.95

Yes

Maalaea CDP
Distillate Fuel Oil
620,269
432,223,409.98
696.83

Yes

H Power

City and County of Honolulu (100.00%)

Honolulu County
Non-biogenic Municipal Solid Waste
363,857
645,159,679.03
1,773.11
Kalaoa CDP
Distillate Fuel Oil
278,780
211,244,340.76
757.75

Hamakua Energy Plant

Hamakua Energy, LLC (100.00%)

Hawaii County
Waste/other Oil
221,052
117,593,511.74
531.97

Yes

Tesoro Hawaii

PAR Petroleum (100.00%)

Honolulu County
Waste/other Oil
154,152.04
54,176,203.12
351.45
Kauai County
Other
146,477
108,299,932
739.36
Quick Facts
During the course of the preceding year, the state of Hawaii has seen a -154,830,270.15 kilogram (2.30%) decrease in CO2 emissions due to electricity consumption.
During the course of the previous year, Hawaii has had a 7.28% increase in generation of electricity from solar power, up from 484,030 megawatt hours a year to 519,290.09 megawatt hours per year.
Hawaii ranks 12th in the US for solar electricity production per capita, averaging 0.36 megawatt hours produced per person per year.
Hawaii has a population of 1,455,271 residents.
Hawaii produces 1,084,555.09 megawatt hours from coal a year. That is 0.75 megawatt hours per person in the state and makes Hawaii the 37th highest ranked state for electricity production from coal per capita.
The 7,433,485.44 megawatt hours of electricity produced by non-renewable fuel types puts Hawaii at 44th worst in the US in non-renewable energy generation.
Around 6,446,332,568.25 kilograms of CO2 emissions are released in Hawaii from electricity consumption each year. This total also can be equated to a ranking of 29th worst in the country for pollution per citizen from electricity consumption, with an average of 4,429.64 kilograms of emissions per person. Residual Fuel Oil is the primary fuel type in the state of Hawaii, with 48.97% of electricity production coming from the fuel source. Other fuel types used include Distillate Fuel Oil at 12.61% and Coal at 11.80%. Hawaii has 30 electricity plants, which is the 32nd highest number of power plants in a state and the 6th highest amount of plants per person in a state.
DISTILLATE FUEL OIL
12.61%
FAQ: Common Questions About Energy in Hawaii
What is the average electric bill in Hawaii?
The average electricity bill in the state of Hawaii in 2022 is $185 while the nationwide average is $124.
How many electric companies offer service in Hawaii?
There are 2 electricity suppliers operating in Hawaii.
What electricity company is the largest provider in Hawaii?
The largest electricity supplier in Hawaii by megawatt hours sold is Hawaiian Electric.
Where does Hawaii get its electricity?
Fuel types used for electricity production in Hawaii include Residual Fuel Oil (48.97%), Distillate Fuel Oil (12.61%) and solar (11.80%).
How much does electricity cost in Hawaii?
The average electric rate in Hawaii is 34.84 cents per kilowatt hour, so anything below this amount is better than most. The lowest priced provider is currently Hawaiian Electric, at 35.57 cents per kilowatt hour.
Does Hawaii have a deregulated electricity market?
No, the state has a regulated market, where residents' electricity supplier choices are usually determined by their location or state legislation.
How many power plants are located within Hawaii?
Hawaii has 30 active electricity plants producing electricity for the state.
What electricity companies offer service in Hawaii?
What is the cheapest electricity company in Hawaii?