Lee County, Kentucky Electric Profile
Lee County emitted 97,753,951.61 kilograms of CO2 gases from electricity use, which makes them the 1817th worst polluting county in the nation.
When calculating by number of customers, Jackson Energy is the largest provider in Lee County.
Consumers in Lee County, on average, pay $128.48 per month for residential electricity, compared to the Kentucky average bill of $122.32.
Lee County is ranked 185th out of 3220 for highest polluting county in the United States based on pollution per person.
The electricity consumed by citizens of Lee County is produced in other counties as the county has no power production plants.
With a population of 7,403 residents, Lee County is the 111th most populated county in the state and the 2707th largest in the country.
ENERGY CONSUMPTION
Total Consumption

121,381 MWh

Consumption per Capita

16.4 MWh
EMISSIONS
CO2 Emissions

97,753,952 kg

CO2 Emissions per Capita

13,204.64 kg
Beattyville, KY Electric Overview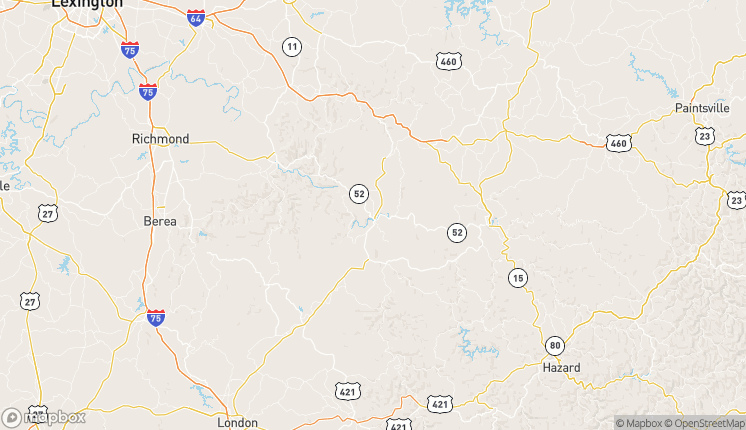 The average residential electricity price for Beattyville is approximately 11.07 cents per kilowatt hour. Luckily for the inhabitants, this rate is below both the Kentucky and United States average prices of 11.07 and 13.45 cents per kilowatt hour, respectively. The average residential power bill for a resident in the city is $127.4 per month, while the nationwide average is $120.24. Kentucky Utilities has 139 residential customers, which is more than any other electricity supplier who operates in the city.
The consumption of electricity in Beattyville accounts for 18,156,380.31 kilograms of CO2 emissions per year, which is the 206th highest in Kentucky out of 541 cities. Additionally, the city ranks 12th worst in Kentucky in pollution per capita, which could be argued to be the more important metric. They average 13,204.64 kilograms of emissions per citizen. All of the 22,544.75 megawatt hours used in the city must be imported from nearby cities or rural areas as there are no electricity facilities that call the city home.
Residential Electricity Bills & Rates in Beattyville
Beattyville residential electric rates are highest in January and the highest average bill is in June.
Historical Electric Rates:
289th
11.07¢
Average residential price per kWh in the city of Beattyville
397th
$127.4
Average residential monthly electricity bill for Beattyville Residents
Electric Companies With Service in Beattyville, Kentucky
| Provider | Service Type | Residential Rate (¢) | Residential Average Bill ($) | City Production (MWh) | Residential Sales (MWh) | Residential Revenues ($) |
| --- | --- | --- | --- | --- | --- | --- |
| Jackson Energy | BUNDLED | 11.40 | 131.97 | | 669,826 | 76,369,900 |
| Kentucky Utilities | BUNDLED | 10.71 | 122.44 | | 6,053,098 | 648,003,031 |
Lee County, Kentucky Details
FAQ
What electricity company is the largest provider in Lee County, Kentucky?
The largest electricity company in Lee County, Kentucky by total customer count is Jackson Energy.
How many electric companies offer service in Lee County, Kentucky?
Lee County, Kentucky is home to 3 electricity suppliers operating in the area.
Which electricity companies offer service in Lee County, Kentucky?