Electricity In Puerto Rico
Population

3,193,694

Total Consumption

11,903,310

 MWh

/ 3.73

 MWh per capita

CO2 Emissions from Consumption5,627,153,898

 kg

Total Production

2,937,341

 MWh

/ 0.92

 MWh per capita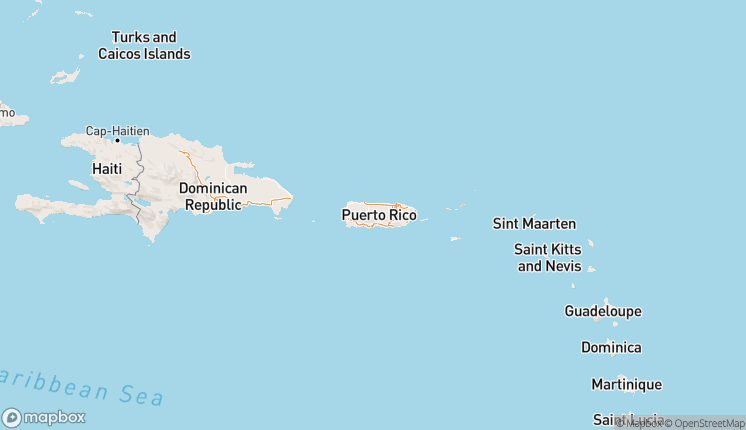 Residential Electricity Bills & Rates in Puerto Rico
Puerto Rico residential electric rates are highest in January and the highest average bill is in April.
Historical Electric Rates:
46th
19.92¢
Average residential price per kWh in the state of Puerto Rico
1st
$61.64
Average residential monthly electricity bill for Puerto Rico Residents
Energy Profile of Puerto Rico
Puerto Rico's Electricity Prices and Usage
Puerto Rico's average residential electricity rate in 2022 is 19.92 cents per kilowatt hour, which is 46.34% more than the United States average rate of 13.62 cents. Puerto Rico ranks as the 46th best priced state in the United States by average electric rate. While there are 1 electricity companies who call Puerto Rico home, the electricity market is regulated and residents often have only one or two electricity provider options determined by their geographic location. The state produces 1.95% of their electricity using renewable fuels, which ranks them 52nd in the US for ratio of renewable fuel sources to non-renewable sources. Puerto Rico has had a 86.79% decline during the course of the past 12 months in the usage of renewable fuels for electricity generation. The state has 3,193,694 residents, resulting in it being the 31st most populated state in the US. The state generates over 2,900,000 megawatt hours from its power plants, which is the 50th largest total generation for a state in the nation.
Residential Electricity Providers in Puerto Rico
| Provider | Service Type | Residential Rate (¢) | Residential Average Bill ($) | Residential Sales (MWh) | Residential Revenues ($) | State Production (MWh) |
| --- | --- | --- | --- | --- | --- | --- |
| Puerto Rico Electric Power Authority | BUNDLED | 18.76 | 79.2 | 6,850,521 | 1,285,219,886 | |
Power Plants in Puerto Rico
| Plant | City/County | Primary Fuel Type | Production (MWh) | Emission (KG) | Emissions/MWh (KG/MWh) | Toxic Chemical Release | Closing Date |
| --- | --- | --- | --- | --- | --- | --- | --- |
Quick Facts
At $61.64, the average Puerto Rico monthly residential electric expense is 49.44% lower than the US average.
CO2 emissions due to the use of electricity have been lowered by -11,168,708,292.35 kilograms (84.46%) in Puerto Rico within the last year.
Puerto Rico produces 14,640 megawatts from wind energy. That is enough to rank the state 40th in the United States for wind energy electricity generation.
Puerto Rico is home to 3,193,694 citizens and its power plants generate 2,937,340.57 megawatt hours of electricity a year, for a production per capita average of 0.92 megawatt hours per capita per year.
Citizens of Puerto Rico consume enough electricity to emit 1,761.96 kilograms per person of CO2 gases per year, compared to the nationwide average of 4,539.83.
Wind produces 14,640 megawatt hours of electricity in Puerto Rico. This equals roughly 0 megawatt hours per person in Puerto Rico being generated from wind power, giving the state a rank of 40th highest in the country in that category.
Emissions in Puerto Rico average 1,761.96 kilograms of CO2 emissions per person from electricity use, making them the 48th highest polluting state based on emissions per capita. While not as telling of a statistic (more people almost always equals more pollution), the total pollution of Puerto Rico from electricity consumption is 5,627,153,897.81 kilograms of CO2 emissions, which ranks as the 43rd highest in the country. The main fuel source utilized in the state of Puerto Rico is Natural Gas, making up 42.89% of the fuel used in the state for electricity production. Residual Fuel Oil and Coal are the second and third most used fuel sources for electricity generation. Residual Fuel Oil makes up 27.10% of electricity generation and Coal makes up 20.39% of total generation in the state. Puerto Rico has zero power generation plants within its borders. This puts it in a tie for last for total power plants and power plants per resident.
DISTILLATE FUEL OIL
7.68%
FAQ: Common Questions About Energy in Puerto Rico
Where does Puerto Rico get its electricity?
Natural Gas is the main fuel source used for electricity production in Puerto Rico, making up 42.89% of production. Additionally, Residual Fuel Oil accounts for 27.10% and Coal accounts for 20.39%.
What electricity company is the largest provider in Puerto Rico?
The largest electricity supplier in Puerto Rico by total revenue is Puerto Rico Electric Power Authority.
What is the average electric bill in Puerto Rico?
The average electricity bill in the state of Puerto Rico in 2022 is $62 while the nationwide average is $122.
What power companies are in Puerto Rico?
How much does electricity cost in Puerto Rico?
The average electricity cost paid by residents of Puerto Rico in 2022 is 19.92 cents per kilowatt hour.
Does Puerto Rico have a deregulated electricity market?
Puerto Rico has a regulated electricity market, rather than a deregulated market. This means that consumers in the state normally have only one or two electricity provider choices when it comes time to choose who they purchase electricity from.
What is the cheapest electricity company in Puerto Rico?