AEP Energy
Electricity Rates, Plans & Statistics
About AEP Energy
AEP Energy is a retail power marketer, which is a company that operates in deregulated electricity markets where customers are able to purchase electricity from multiple different providers. A total of 419,707 customers (342,352 residential customers and 77,355 commercial customers) receive their electricity from the company. The average electricity only residential rate for consumers of AEP Energy is approximately 5.63 cents per kilowatt hour , which is lower than United States average electricity only rate of 8.46 cents per kilowatt hour. The provider had total sales and disposition of 22,409,537 megawatt hours in 2020, of which 100.00% were via retail sales. The electricity sourced consisted of megawatt hours purchased by way of the wholesale electricity market. They purchased 22,409,537 wholesale megawatt hours. Their total revenue in 2020 was $1,161,214,400 and was earned through sales to retail electricity customers alone.
The average residential power bill for an electricity only customer of AEP Energy is $55.77 per month. Patrons of the company pay a 9.89% reduction compared to other residents of the United States. Electricity production is not part of the AEP Energy business plan, as they purchase power at wholesale rates from other companies and then resell to their end users.
AEP Energy Rate & Electric Bills
AEP Energy residential electric rates are highest in January and the highest average bill is in May.
Historical Electricity Rates:
17th
5.63¢
AEP Energy's Average residential price per kWh
74th
$55.77
Average monthly electricity bill for AEP Energy's residential customers
Looking for better Electricity or Gas rates?
Find out which plans are best for your home or business in your area and send a change request in minutes.
Find plans in your area
AEP Energy Overview
Company Type:

Retail Power Marketer

Parent Company:

American Electric Power

Subsidiary Company:

BlueStar Energy

Headquarters:

155 West Nationwide Boulevard
Columbus, Ohio 43215
United States of America

CEO:

Nick Akins
AEP Energy Contact
AEP Energy Service
States Served:

Table Of Contents:
Go Solar for as low as $0 down and $79/mo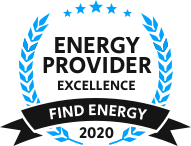 Top 10 Lowest Residential Electricity Rate
National, Major Provider Category
Claim Award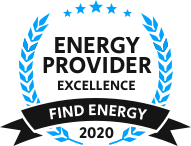 Top 3 Lowest Residential Electricity Rate
Maryland, Major Provider Category
Claim Award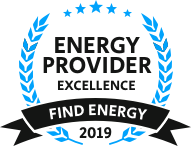 Top 3 Lowest Residential Electricity Rate
Maryland, Major Provider Category
Claim Award
AEP Energy State Coverage
| State | Customers | Sales ($) | State Rank Based On Revenue | % of Provider's Residential Sales in State |
| --- | --- | --- | --- | --- |
| Delaware | 592 | 3,550,900 | 19 | |
| District of Columbia | 258 | 685,900 | 40 | |
| Illinois | 43,329 | 352,117,700 | 7 | 6.18% |
| Maryland | 4,067 | 71,612,100 | 8 | 1.12% |
| New Jersey | 2,172 | 33,726,600 | 27 | 0.41% |
| Ohio | 287,916 | 509,173,100 | 4 | 66.47% |
| Pennsylvania | 81,373 | 190,348,100 | 15 | 25.82% |
AEP Energy Reviews
Write a Review of AEP Energy
AEP Energy FAQ:
What company is AEP Energy owned by?
AEP Energy is a subsidiary of American Electric Power.
How much is the average energy bill for AEP Energy customers each month?
Customers of AEP Energy pay, on average, a monthly energy bill of $55.77.
What is the average ENERGY electricity rate for AEP Energy customers?
AEP Energy's current average ENERGY electricity rate is 5.63 cents per kilowatt hour (¢/kWh), compared to the average US ENERGY rate of 8.46 cents.
Does AEP Energy have any subsidiary companies?
AEP Energy is a parent company of BlueStar Energy.
Who is the CEO of AEP Energy?
AEP Energy's current CEO is Nick Akins.
How many states does AEP Energy offer service to?
AEP Energy supplies electricity to customers in 7 states.
What is the phone number for AEP Energy?
You can reach AEP Energy by phone via (866) 258-3782.