Electricity In Rhode Island
Population

1,059,361

Total Consumption

7,378,681

 MWh

/ 6.97

 MWh per capita

CO2 Emissions from Consumption2,994,075,967

 kg

Total Production

8,118,839

 MWh

/ 7.66

 MWh per capita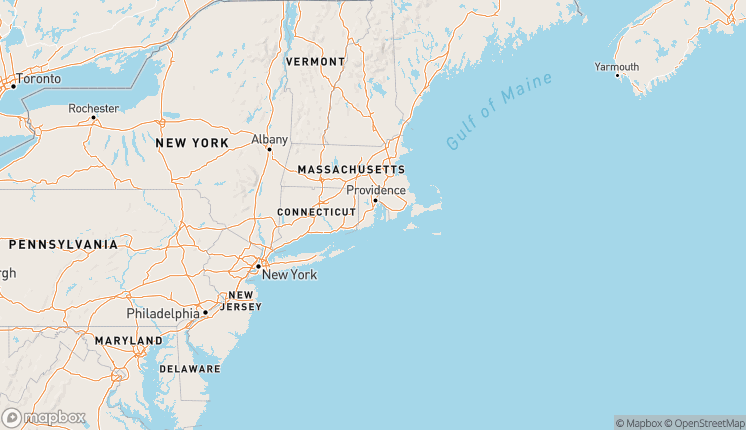 Residential Electricity Bills & Rates in Rhode Island
Rhode Island residential electric rates are highest in January and the highest average bill is in July.
Historical Electric Rates:
48th
22.17¢
Average residential price per kWh in the state of Rhode Island
38th
$131.37
Average residential monthly electricity bill for Rhode Island Residents
Energy Profile of Rhode Island
Rhode Island's Electricity Prices and Usage
Consumers in Rhode Island are faced with a higher residential electricity rate than many people in the nation, with an average state electric rate of 22.17 cents per kilowatt hour compared to the US average price of 13.62 cents. This ranks Rhode Island as the 48th lowest priced state in the country by average electricity rate. With 3 electricity companies in the state, customers have many choices to choose from thanks to the deregulated electricity market that exists in the state. The state generates about 7.66 megawatt hours per person per year from its electricity generating plants, which ranks it as the 42nd largest producer per capita in the nation. Power generation facilities in the state produce 10.03% more electricity than the state uses, providing an opportunity for electricity storage or exportation. The Narragansett Electric Co sells 4,035,406 megawatt hours in the state a year, more than all other providers. Collectively, customers in the state consume a total of over 7,300,000 megawatt hours for their electricity needs.
Residential Electricity Providers in Rhode Island
| Provider | Service Type | Residential Rate (¢) | Residential Average Bill ($) | Residential Sales (MWh) | Residential Revenues ($) | State Production (MWh) |
| --- | --- | --- | --- | --- | --- | --- |
| The Narragansett Electric Co | BUNDLED | 21.97 | 130.58 | 2,839,350 | 623,770,106 | |
| Pascoag Electric Utility | BUNDLED | 14.68 | 99.52 | 35,121 | 5,155,960 | |
| Block Island Power Company | BUNDLED | 41.79 | 150.07 | 6,934 | 2,897,431 | 2 |
Power Plants in Rhode Island
Plant

City/County

Primary Fuel Type

Production (MWh)

Emission (KG)

Emissions/MWh (KG/MWh)

Toxic Chemical Release

Closing Date

Providence County
Natural Gas
3,585,661
1,366,771,850.22
381.18
Tiverton CDP
Natural Gas
1,589,737
600,121,705.82
377.5

Manchester Street

Manchester Street, LLC. (100.00%)

Providence
Natural Gas
1,396,261
592,768,782.26
424.54
Providence County
Natural Gas
663,233
274,189,233.77
413.41
Providence County
Natural Gas
633,092
268,756,618.03
424.51

Johnston LFG Turbine Plant

Rhode Island LFG Genco (100.00%)

Providence County
Landfill Gas
190,942.56
98,908,631.24
518

Toray Plastic America's CHP Plant

Toray Plastics America (100.00%)

Washington County
Natural Gas
141,859.9
74,983,596.1
528.57

Block Island Wind Farm

Deepwater Wind Block Island LLC (100.00%)

Washington County
Wind
93,882
Kent County
Solar
32,822

Gold Meadow Farms

Captona Partners Solar I Finco LLC (100.00%)

Cranston
Solar
29,337
Quick Facts
In Rhode Island, 7,419,698.79 megawatt hours of electricity are generated from non-renewable fuels. Rhode Island ranks 44th worst in the country for total electricity generation from non-renewable fuel types.
Rhode Island is the 35th highest state for non-renewable production per capita, with an average of 7 megawatt hours per resident produced from non-renewable fuel sources per year.
Rhode Island saw a 0.19% increase in the state's population in the past 12 months.
Rhode Island produces 0.3 megawatt hours per capita per year from solar power, giving the state a rank of 17th in the nation.
Ranking 36th in wind power generation in the US, Rhode Island has a total yield of 186,530.81 megawatt hours from wind power.
The use of non-renewable fuel types in electricity production in Rhode Island has declined by 6.29% over the last 12 months.
Coming in as the 48th worst ranked state in the nation, Rhode Island emits 2,994,075,966.63 kilograms of CO2 emissions from electricity consumption. The state averages 2,826.3 kilograms of CO2 emissions per capita, which is a better measurement of the state's emission levels. They rank 42nd highest in the nation for emissions per resident. Around 91.29% of the state of Rhode Island's electricity is generated using Natural Gas. Solar and Landfill Gas make up the next highest totals for a fuel type at 3.91% and 2.35%, respectively. Rhode Island has the 39th highest amount of electricity producing plants of any state in the US, with 68 total plants. This equates to the 11th most power plants per resident in the nation.
DISTILLATE FUEL OIL
0.08%
Learn about going solar in Rhode Island, find out which system size is best for you, compare local installers and see which incentives are available in your area.
FAQ: Common Questions About Energy in Rhode Island
Where does Rhode Island get its electricity?
The main fuels used for electricity generation in Rhode Island are Natural Gas, Solar and Landfill Gas, accounting for 91.29%, 3.91% and 2.35% respectively.
What power companies are in Rhode Island?
Which electricity company is the largest supplier in Rhode Island?
The largest electricity supplier in Rhode Island by megawatt hours sold is The Narragansett Electric Co.
How many electric companies offer service in Rhode Island?
There are 3 electricity companies serving consumers in Rhode Island.
What is a good electricity rate in Rhode Island?
The average electric rate in Rhode Island is 22.17 cents per kilowatt hour, so anything below this amount is better than most. The lowest priced provider is currently Pascoag Electric Utility, at 14.68 cents per kilowatt hour.
What is the average electric bill in Rhode Island?
The Rhode Island average electricity bill is $131 so far in 2022, while the US average is $122.
Does Rhode Island have a deregulated electricity market?
Rhode Island has a deregulated electricity market, meaning citizens in the state can often choose from an abundance of electricity providers for their electricity needs.
What is the cheapest electricity company in Rhode Island?
How many power plants are located within Rhode Island?
There are 68 power plants in Rhode Island