Midland County, Texas Electric Profile
Midland County ranks 26th out of 254 counties in the state for total consumption, with its residents using 2,529,132.7 megawatt hours.
At an average residential price of 11.56 cents per kilowatt hour in the county compared to the nationwide average 13.45 cents per kilowatt hour, citizens of Midland County benefit from a 14.05% discount from the national average price.
No electricity generation takes place in Midland County.
Residents of Midland County use enough electricity to release 5,680.98 kilograms of CO2 gases per capita, compared to the national average of 4,494.55.
Midland County is the 378th most populated county in the United States.
Citizens in Midland County face an average of 2.13 outages lasting 241.8 minutes per year, compared to the nationwide averages of 1.21 outages at 122.99 minutes an outage.
ENERGY CONSUMPTION
Total Consumption

2,529,133 MWh

Consumption per Capita

14.3 MWh
EMISSIONS
CO2 Emissions

1,004,578,984 kg

CO2 Emissions per Capita

5,680.98 kg
Midland, TX Electric Overview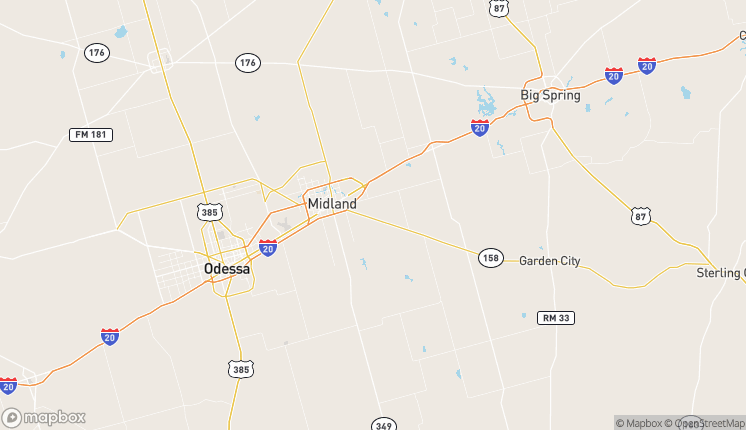 The residential electricity rate is, on average, 11.53 cents per kilowatt hour for citizens of Midland, which is 3.24% below Texas's average rate of 11.91 cents and 14.31% less than the national average of 13.45 cents. The average monthly residential electricity bill for a citizen in the city is $109.12 per month. Southwestern Public Service Company has 399 residential customers, which is more than all other electricity providers in the city.
Electricity consumption in Midland creates 787,094,042.2 kilograms of CO2 emissions. This is the 24th most of any city in Texas. Additionally, the city ranks 786th worst in Texas in pollution per citizen, which could be argued to be the more important statistic. The city does not generate electricity in the city limits, causing it to be tied for last in the state for the total number of electricity plants in a city.
Residential Electricity Bills & Rates in Midland
Midland residential electric rates are highest in January and the highest average bill is in February.
Historical Electric Rates:
973rd
11.53¢
Average residential price per kWh in the city of Midland
157th
$109.12
Average residential monthly electricity bill for Midland Residents
Electric Companies With Service in Midland, Texas
Zips with electric coverage in Midland, Texas include: 79705, 79707, 79701, 79706, 79703, 79765, 79782
Midland County, Texas Details
FAQ
What electricity company is the largest supplier in Midland County, Texas?
The largest electricity company in Midland County, Texas by megawatt hours sold is Southwestern Public Service Company.
What electricity companies offer service in Midland County, Texas?